Canon XC10 Review –  First impressions
Canon XC10 Review by Daniel De Silva from Cloakroom Media.
The Canon XC10 is a hybrid camera that bridges the gap between a Video DSLR and a cinema line camera like the C100 MKII.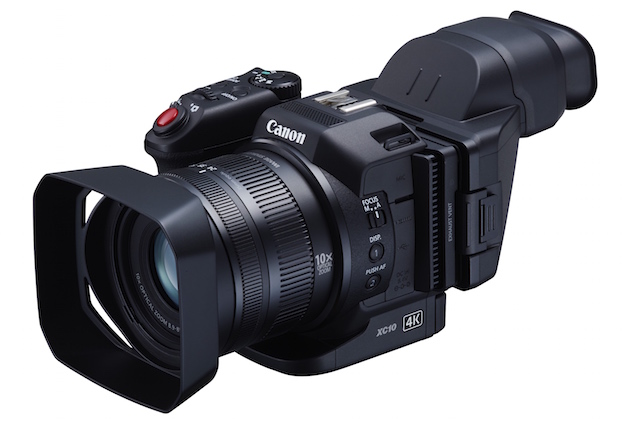 At first glance the specs are quite interesting, 4K 422 internal recording, 1080 / 50p, 720p / 100p and fixed lens with impressive focal range without the bulk. The chip size is a 1″ CMOS sensor, which still gives you shallow depth of field, but is more forgiving with critical focus.
Canon actually ship this with a CFAST card and reader which is a great saving, and is actually essential for shooting 4K video. In fact, current internal 4K mirror-less / DSLR cameras offered by other manufactures have approx 100MBPS data rates for 4K, and usually at 420 colour space. The Canon XC10 has a whopping 305MBPS 4K MXF codec, which really translates to a visibly clearer more detailed image, and one that can be pushed harder in post.
My first impressions of this camera is its superior ability to go handheld comfortably, and still produce a super steady shot. The grip can swivel to a suitable position for high and low angle shooting, and the screen can swivel 90 degrees upward and almost 90 degrees downward – not to mention its a touch screen. You can also touch to focus, and additionally you can touch – track to focus – so it has the ability to track an object other than a face, very handy, and I see the benefits here for drone / car rigging work.
News just in (21st of Jan 2016) the XC10 has dropped to under $2000 USD!

Below are some examples of our recent tests with the camera, including a short form documentary, unscientific ISO test, focal range & handling and fast moving gimbal application.
Here is a short teaser of a real project we shot entirely on the XC10.
A quick handheld only test seems to produce effortless ability to get nice movement and shallow depth of field by using the longer end of the lens.
The XC10 has superb handling, even from wide to long end zooms you can get a very steady shot handheld, something that is impossible with other cameras this size.
Canon Log records an image with subdued contrast and sharpness, which preserves a high dynamic range and presupposes color grading in post production. Canon Log Gamma emphasizes rich gradients from mid-range to highlights, resulting in up to 12-stops of dynamic range.
Recorded in Canon Log Gamma here is a test shot in 4K going through the ISO range, remembering this is a 1″ 12MP chip – results are somewhat impressive.
Here are some graded images recorded in 4k (unfortunately vimeo at the time of upload did not support 4K) to see how effective the AF face tracking performance is.
An example of the setups we used for the XC10 Sharp FX documentary.
Xc10 offers a cost effective B camera solution to the C series Canon cameras like the 1DC 4k, C100 MKI & MKII and the C300 as they all have Clog gamma. Here is a quick simple test of the 4 cameras cut side by side with minimal colour correction in FCPX native colour controls.
Frame Rates
4K
29.97p, 23.98p1080
59.94p, 50p, 59.94i, 50i, 29.97p , 23.98p720p
119.98p, 100p Slow & Fast Motion
Supported at 1080 resolution
Bitrates
4K
305 Mbps: 29.97p, 23.98p1080
50 Mbps: 59.94p, 50p
35 Mbps: 59.94i, 50i, 29.97p, 23.98p
Chroma Subsampling
4:2:2, 8-bit
Audio Encoding
Linear PCM: 16-bit/48kHz, 2-channel
Timecode
Drop frame (NTSC frame rates only)
Non-drop frame
Record run
Free run
Regeneration
Picture Profiles
Standard
EOS Standard
Wide DR
Cinema EOS Standard
Canon Log
User Setting 1
User Setting 2
Recording Formats – Photo
File Type
JPEG
Resolutions
10.66 MP: 4000 x 2664 (3:2)
12 MP: 4000 x 3000 (4:3)
VGA: 640 x 480 (4:3)
8.29 MP: 3840 x 2160 (16:9)
Shooting Modes
Single shot
Continuous
AF Continuous
Interval Recording (for time-lapse)
Simultaneous Photo / Video Capture
Photo grabs are possible at the current video resolution. Still image capture during video playback also possible
Picture Profiles
Standard
Portrait
Landscape
Neutral
Sepia
Monochrome
User Setting 1
User Setting 2
Media
Recording Media
CFast: 4K: video
SDHC / SDXC: HD video, photos, and camera settings
LCD Display
Size
3″ (7.7 cm) diagonal
Aspect Ratio
3:2
Resolution
1,030,000 dots
Coverage
100%
Interface
Electrostatic capacitance-type touch panel, variable angle supported
Functions
Color bars
Peaking
Zebra pattern
Markers digital
2x Digital magnification
Inputs/Outputs
HDMI Output
1 x Type A (HDMI 1.4)
Output Signal
4:2:2, 8-bit
Output Resolutions
59.94p/i: 1920 x 1080, 720 x 480
29.97p: 3840 x 2160, 1920 x 1080, 720 x 480
Audio Input
1 x 3.5 mm input jack
Headphone Jack
1 x 3.5 mm output jack
USB
1 x Mini-USB type B
Wi-Fi
2.4 / 5 GHz